Daniel Barenboim Career, Biography & Music Style
Daniel Barenboimis an Argentine pianist and conductor who has lived in Israel, Palestine, and Spain. Barenboim formerly served as Music Director of the Chicago Symphony Orchestra, the Orchestre de Paris, and La Scala in Milan. He is now the general music director of the Berlin State Opera and the Staatskapelle Berlin. Barenboim is most known for his work with the West–Eastern Divan Ensemble, a Seville-based orchestra of young Arab and Israeli artists, as well as for his outspoken opposition to Israel's occupation of Palestinian lands.
The Seven Grammy Distinctions, an honorary Knight Commander of the Order of the British Empire, the French Légion d'honneur as a Commander and Grand Officier, and the German Bundesverdienstkreuz with Stern und Schulterband are among Barenboim's numerous honors and awards. He received the Prince of Asturias Concord Award, which he shared with Palestinian-American academic Edward Said. Barenboim speaks Spanish, Hebrew, English, French, Italian, and German fluently. He is a self-described Spinozaist, inspired by Spinoza's life and ideas.

Daniel Barenboim, Staatskapelle Berlin – Beethoven: Piano Concerto 3 in C Minor, III. Rondo. Allegro
Aida (née Schuster) and Enrique Barenboim, both renowned pianists, gave birth to Daniel Barenboim on November 15, 1942, in Buenos Aires, Argentina. He began piano lessons with his mother when he was five years old, and continued to learn with his father, who remained his only instructor. He performed his first official performance in his birthplace of Buenos Aires on August 19, 1950, when he was seven years old.
Barenboim's family immigrated to Israel in 1952. His parents brought him to Salzburg two years later, in the summer of 1954, to participate in Igor Markevitch conducting courses. He also met and performed with Wilhelm Furtwängler during that summer, who has remained a major musical inspiration and ideal for Barenboim. Furtwängler dubbedDaniel Barenboim a "phenomenon" and asked him to play Beethoven's First Piano Concerto with the Berlin Philharmonic, but his father thought it was too soon after WWII for a kid of Jewish parents to be performing in Berlin. In 1955, Barenboim went to Paris to study harmony and composition under Nadia Boulanger.
Daniel Barenboim married British cellist Jacqueline du Pré in a Western Wall ceremony on June 15, 1967, after du Pré converted to Judaism. The conductor, Zubin Mehta, a long-time friend of Barenboim, was one of the witnesses. "Because I wasn't Jewish," Mehta said, "I had to be temporarily renamed Moshe Cohen, which made me a 'kosher witness." After being diagnosed with multiple sclerosis, Du Pré withdrew from music in 1973. (MS). The couple married until du Pré died in 1987.
Daniel Barenboim and Russian pianist Elena Bashkirova began dating in the early 1980s. David Arthur, born in 1983, and Michael, born in 1985, were their two boys, both born in Paris before du Pré's death. Barenboim thought he had succeeded in keeping his connection with Bashkirova secret from du Pré. In 1988, he married Bashkirova. David Barenboim, a manager-writer for the German hip-hop band Level 8, and Michael Barenboim, a classical violinist, are both musicians.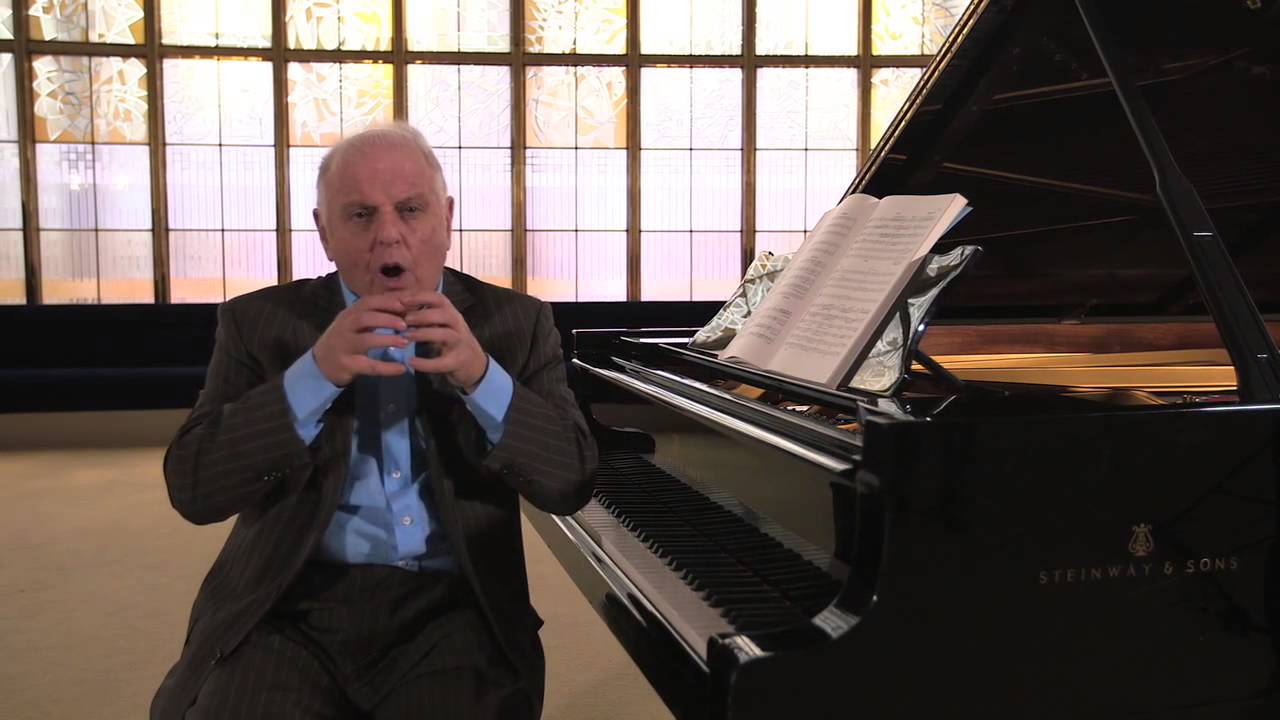 'How to listen to music' by Daniel Barenboim
Barenboim made his worldwide debut as a pianist at the age of ten in 1952 in Vienna and Rome, after playing in Buenos Aires. Under the direction of Leopold Stokowski, he played in Paris in 1955, London in 1956, and New York in 1957. Following that, he embarked on regular performance tours across Europe, the United States, South America, Australia, and the Far East.
Before and during the Six-Day War in June 1967, Barenboim and his then-fiancée, Jacqueline du Pré, performed in Jerusalem, Tel Aviv, Haifa, and Beersheba. His relationship with artists Itzhak Perlman, Zubin Mehta, and Pinchas Zukerman, as well as his marriage to du Pré, led to the filming of the Schubert "Trout" Quintet by Christopher Nupen in 1969.
Barenboim was asked to lead several European and American symphony orchestras after his debut as a conductor with the English Chamber Orchestra at Abbey Road Studios, London, in 1966. He was the music director of the Orchestre de Paris from 1975 until 1989, where he led a lot of modern music.
In 1973, Barenboim made his opera conducting debut at the Edinburgh Festival, conducting Mozart's Don Giovanni. He made his conducting debut in Bayreuth in 1981 and continued to conduct there until 1999. He was named creative and musical director of the Opéra Bastille in Paris in 1988, with plans to debut in 1990, but was dismissed by the opera's chairman, Pierre Bergé, in January 1989. In 1989, Barenboim was appointed music director designate of the Chicago Symphony Orchestra, and in 1991, he took over as music director from Sir Georg Solti, a position he maintained until June 17, 2006. He voiced dissatisfaction with the necessity for fund-raising tasks as part of his role as music director of an American orchestra in the United States.
Since 1992, Barenboim has served as music director of the Berlin State Opera and the Staatskapelle Berlin, ensuring the State Opera's independence. He made an effort to keep the orchestra's classic sound and character. He was named conductor of the Staatskapelle Berlin for life in the fall of 2000.
After Riccardo Muti's retirement, Barenboim was appointed main guest conductor at La Scala opera venue in Milan on May 15, 2006.
In 2011, he was appointed music director of La Scala. Barenboim gave the BBC Reith Lectures in 2006, delivering a five-part series titled In the Beginning was Sound. The music lectures were recorded in a variety of locations, including London, Chicago, Berlin, and two locations in Jerusalem. Barenboim delivered the Charles Eliot Norton Lectures at Harvard University in the fall of 2006, titled Sound and Thought.
Lorin Maazel nominated Barenboim as his successor as music director of the New York Philharmonic in November 2006.
"Nothing could be further from my thoughts at the moment than the possibility of returning to the United States for a permanent position," Barenboim said, repeating his lack of interest in the New York Philharmonic's music directorship or its newly created principal conductor position, which he had expressed in April 2007.
On November 28, 2008, Barenboim made his conducting debut at the Metropolitan Opera in New York for the 450th performance of Wagner's Tristan und Isolde. For the first time, Barenboim led the Vienna Philharmonic's New Year's Concert in 2009.
He expressed optimism in his New Year speech that 2009 would be a year of peace and human justice in the Middle East. He returned to lead the Vienna New Year's Concert in 2014, and he is set to conduct the concert in 2022.
The Barenboim–Said Academy in Berlin started construction in 2014. The school, which Barenboim co-founded with Palestinian-American academic Edward Said, was intended to be a place where young musicians from the Arab world and Israel could study music and humanities in Berlin. On December 8, 2016, it first opened its doors. Pierre Boulez Saal, the academy's public face, debuted in 2017. Frank Gehry created the elliptical-shaped music venue. The sound profile of the hall was developed by acoustician Yasuhisa Toyota.
Barenboim debuted a new concert grand piano in 2015. The piano, which was designed by Chris Maene with the help of Steinway & Sons, has straight parallel strings rather than the traditional diagonally-crossed strings seen on contemporary Steinways.
In 2020, Barenboim co-curated Pierre Boulez Saal's digital new music festival "Distance/Intimacy" with flautist Emmanuel Pahud. Ten contemporary composers, including Jörg Widmann, Olga Neuwirth, and Matthias Pintscher, responded to their request by submitting new pieces that engage aesthetically with the COVID-19 epidemic. All of the composers and musicians who took part waived their fees, encouraging listeners to donate to arts and culture.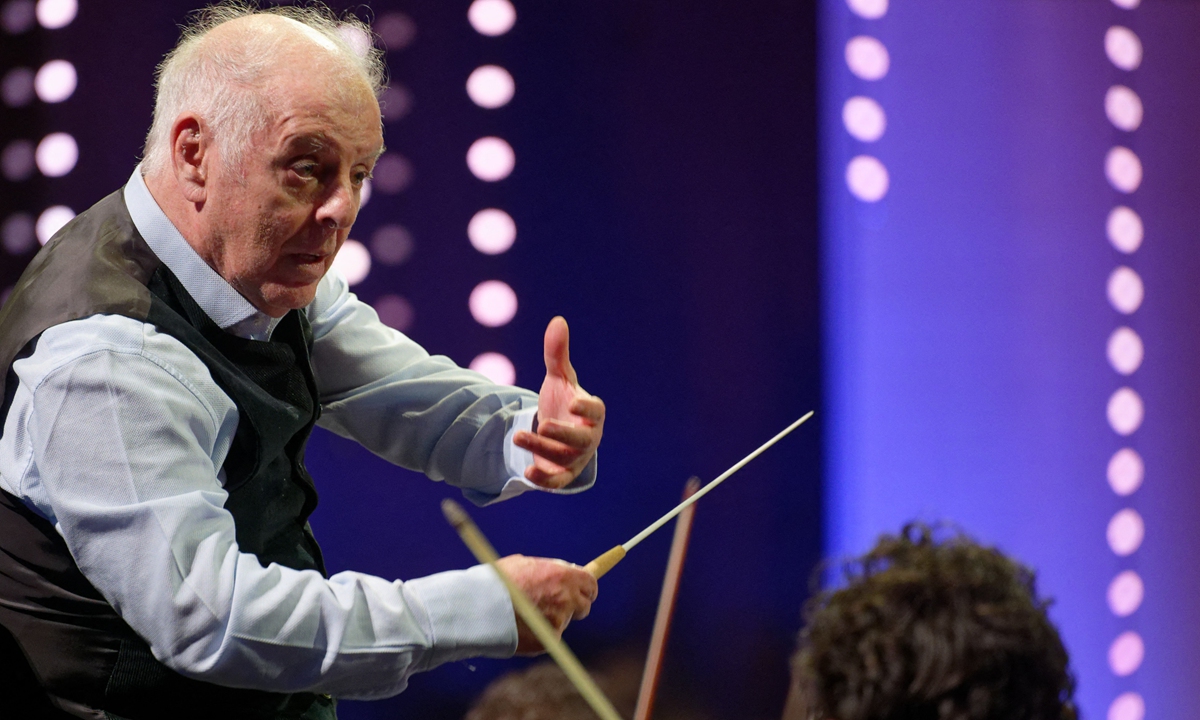 Musical trends based on contemporary musicological research, such as the genuine performance movement, have been rejected by Barenboim. Instead of completely following Bärenreiter's revised edition, his recording of Beethoven's symphonies demonstrates his fondness for certain traditional techniques (edited by Jonathan Del Mar). Barenboim has been a vocal opponent of determining a piece's pace based on historical data such as the composer's metronome markings. Instead, he proposes that the pace be determined by the music itself, particularly by its harmony and harmonic rhythm.
In his recordings of Beethoven's symphonies, he has mirrored this in the overall tempi he has selected, which are typically early-twentieth-century norms. Other conductors, like David Zinman and genuine movement supporter Roger Norrington, have selected quicker tempos, but they have not been inspired by them.
In his recording of The Well-Tempered Clavier, Barenboim makes extensive use of the right-foot sustaining pedal, which was not available on Bach's keyboard instruments (though the harpsichord was highly resonant), resulting in a sonority that is very different from Glenn Gould's "dry" and often staccato sound. Furthermore, in the fugues, he often plays one voice much louder than the others, which is difficult to do on a harpsichord.
This technique, according to some historians, started during Beethoven's lifetime (see, for example, Matthew Dirst's book Engaging Bach). Barenboim says that he is more interested in the lengthy historyof performing Bach that has existed for two and a half centuries than in the precise manner of performance in Bach's time when explaining his interpretation of Bach:
The study of ancient instruments and past performance techniques has taught us a lot, but the most important lesson has been overlooked: the importance of harmony. The fact that tempo is characterized as a separate phenomenon demonstrates this. One of Bach's gavottes is said to need to be played quickly, while the other has to be played slowly.
However, the pace is not self-contained! ... I believe that focusing only on past performance practice and attempting to replicate the sound of earlier musical genres is both restrictive and ineffective. Mendelssohn and Schumann, as well as Liszt's transcriptions and Busoni's arrangements, attempted to bring Bach into their own era. In America, Leopold Stokowski attempted it with his orchestral arrangements.
This was always the consequence of "progressive" attempts to bring Bach closer to the time period in question. I don't have an issue with someone playing Bach and making it sound like Boulez from a philosophical standpoint. My issue is with someone who attempts to mimic the sound of the era...
Share:
Twitter

|
Facebook

|
Linkedin