Piano Superstar Emanuel Ax's Career, Biography & Musical Style
Emanuel Axwas born in modern-day Lvov, Poland, and migrated to Winnipeg, Manitoba, with his family when he was a child. His studies at the Juilliard School were sponsored by the Boys Clubs of America's Epstein Scholarship Program, and he went on to win the Young Concert Artists Award. He also studied at Columbia University, where he majored in French. Mr. Ax made his New York debut in the Young Concert Artists Series, and in 1974, he won the inaugural Arthur Rubinstein International Piano Competition in Tel Aviv, capturing public attention. He received the Michaels Award for Young Concert Artists in 1975, and the prestigious Avery Fisher Prize four years later.
A European summer festival tour with the Vienna Philharmonic and long-time collaborator Bernard Haitink, an Asian tour with the London Symphony and Sir Simon Rattle, and three concerts with regular partners Leonidas Kavakos and Yo-Yo Ma at Carnegie Hall in March 2020 were among the highlights of the 2019/20 season.
Due to Covid-19, further recitals and orchestral performances were canceled last spring, and Mr. Ax, like many other artists across the globe, reacted imaginatively to these unusual conditions. He presented "The Legacy of Great Pianists," a segment of the online Live at Carnegie Hall series that showcases great pianists who have played at the venue. He performed with cellist Yo-Yo Ma in a series of surprise pop-up performances for Berkshires critical employees at a variety of venues across the region in September.
With pieces composed for him by John Adams, Christopher Rouse, Krzysztof Penderecki, Bright Sheng, and Melinda Wagner already in his repertoire, he has recently added HK Gruber's Piano Concerto and Samuel Adams' "Impromptus" to his repertory.
The Brahms Trios with Yo-Yo Ma and Leonidas Kavakos, the Mendelssohn Trios with Yo-Yo Ma and Itzhak Perlman, Strauss' Enoch Arden narrated by Patrick Stewart, and discs of two-piano musicby Brahms and Rachmaninoff with Yefim Bronfman are among his recent releases as a Sony Classical exclusive recording artist. Deutche Grammophon produced a duet recording of the Faure and Strauss sonatas with Mr. Perlman in 2015, which the two musicians performed on tour throughout the 2015/2016 season. For the second and third volumes of his Haydn piano sonata cycle, Mr. Ax won GRAMMY® Awards. He's also produced a series of Grammy-winning recordings of Beethoven and Brahms sonatas for cello and piano with cellist Yo-Yo Ma. His other recordings include Liszt and Schoenberg concertos, three solo Brahms CDs, an album of Astor Piazzolla's tangos, and the Cleveland Orchestra's first recording of John Adams' Century Rolls for Nonesuch. Mr. Ax also contributed to an International EMMY® Award-Winning BBC Holocaust documentary that was broadcast on the 60th anniversary of the liberation of Auschwitz in the 2004/05 season. Mr. Ax won the Echo Klassik Award for Solo Album of the Year (19th century music/piano) in 2013 for his recording Variations.
Young Uck Kim, Cho-Liang Lin, Mr. Ma, Edgar Meyer, Peter Serkin, Jaime Laredo, and the late Isaac Stern are just a few of the musicians with whom he has collaborated on a regular basis in chamber music.
Mr. Ax and his wife, pianist Yoko Nozaki, live in New York City. Joseph and Sarah, their two children, were born to them as a couple. He has honorary doctorates in music from Skidmore College, Yale University, and Columbia University. He is a Fellow of the American Academy of Arts and Sciences.
Ax was born to Joachim and Hellen Ax, a Polish-Jewish family in Lviv, Ukraine (then the Soviet Union). Both of my parents were survivors of Nazi concentration camps. At the age of six, Ax started studying piano with his father, who was also his first piano instructor. His family relocated to Warsaw, Poland, when he was seven years old (where he learned piano at Miodowa school) and then to Winnipeg, Manitoba, Canada, two years later, where he continued to study music, including as a member of The Junior Musical Club of Winnipeg. Ax completed his studies at the Juilliard School under Mieczyslaw Munz when the family relocated to New York City in 1961. In 1970, he graduated from Columbia University with a B.A. in French and became an American citizen. He earned an honorable mention at the VIII International Chopin Piano Competition in Warsaw the following year. In 1973, he won the International Young Concert Artists Auditions.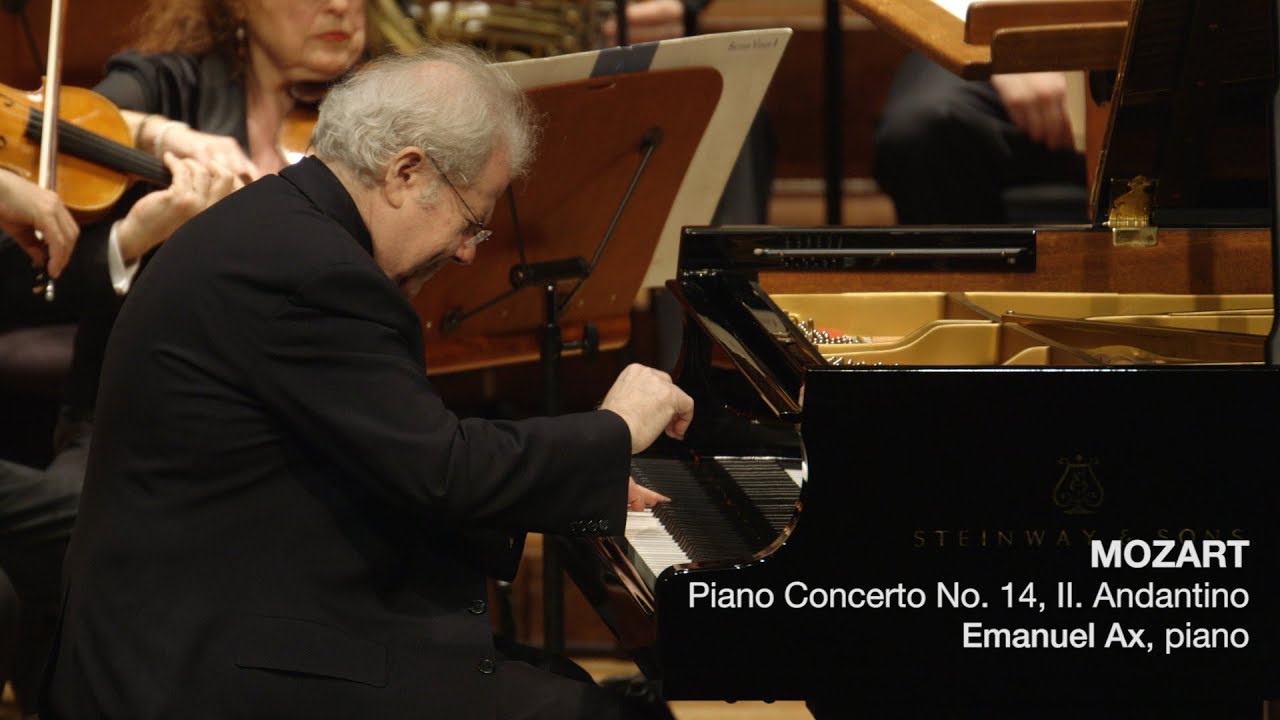 Emanuel Ax Plays Mozart's Piano Concerto No. 14
Ax is a strong supporter of contemporary composers, having performed world premieres of Century Rolls by John Adams, Seeing by Christopher Rouse, and Red Silk Dance by Bright Sheng in recent seasons. He also plays music by Michael Tippett, Hans Werner Henze, Joseph Schwantner, and Paul Hindemith, as well as more classic composers like Haydn, Mozart, Beethoven, and Chopin.
Since August 3, 1973, when the pair gave their first public performance at the Marlboro Music School and Festival, Ax has been Yo-Yo Ma's primary duo recital partner. They've recorded a lot of cello and piano music together. Ax has performed in quartets with Ma and violinists Isaac Stern and Jaime Laredo for a short time. The quartet recorded pieces by Brahms, Fauré, Beethoven, Schumann, and Mozart for Sony before disbanding in 2001 due to Stern's death. Ax is also a featured guest performer in Five Days in September: The Rebirth of an Orchestra, a documentary film about the Toronto Symphony Orchestra and Peter Oundjian.
In 1997, Ax co-directed the Ojai Music Festival with conductor Daniel Harding as Music Director.
He has honorary doctorates in music from Yale University and Columbia University, which he received in May 2007. He was awarded the Sanford Medal by Yale University.
Emanuel Ax's rendition of HK Gruber's Piano Concerto with the New York Philharmonic on Thursday night seemed as if he'd been playing it his whole life. It sounded seasoned and "lived in."
It was enough to make you reopen the program and marvel at the words "World Premiere."
Despite the fact that the pianist was playing with a score open on the keyboard, neither his nor the orchestra's performance under music director Alan Gilbert indicated a rough first performance. Instead, Gruber's vivacious, appealing work—an international co-commission by the Philharmonic and three other orchestras—spoke directly to the audience, with jazzy tones one minute and Romantic elements the next. With a standing ovation at the conclusion, the concerto was welcomed into the world.
The Austrian composer, now in his 70s, rose to prominence as a serialist bad boy, including vintage aspects in his compositions, particularly the cabaret style, long before it became popular. In addition to composition, he has pursued a career as a vocalist in the cabaret M.C. style of speech-singing.
Gilbert prefaced the new 20-minute concerto with the sarcastic but smooth sounds of Kurt Weill's music for The Threepenny Opera, adapted for woodwinds by the composer, as noted in James M. Keller's Philharmonic program notes.
A lively, sardonic little melody for muted trumpet appeared to promise more of the same at the concerto's start. However, the concerto ethos soon absorbed the cabaret ethos, and Weill faded away, replaced by gleaming, Gershwin-like piano syncopations and rich orchestral sonorities à la Rachmaninoff.
Gruber's harmonic escapades were extremely modern, yet they were dressed in comfortable clothing from a century ago. But now, God knows," someone wrote back then, "anything goes," and it worked out perfectly for Ax, Gilbert, and the Philharmonic on Thursday night.
The players' ability to embody and portray every twist and turn of this one-movement, variations-style concerto was what truly sold it to the audience, who gave it much more than the customary polite applause for new works.
With the ineffably gloomy poetry and dance rhythms of Weill's Kleine Dreigroschenmusik, a woodwind ensemble with a rhythm section (piano, timpani, and various percussion) recalled a whole period to open the performance (Little Threepenny Music).
Gilbert and his players immediately caught the detached, world-weary tone of the Brecht-Weill classic's famous songs. Throughout the piece, save for the pounding, pompous Overture, the conductor indicated a light touch, which he sometimes received. However, in the final few songs, the clear-eyed, rhythmically exact performance became a bit mushy and withdrew its punches.
There was no similar issue with Schubert's Symphony No. 2 in B-flat major's opening movement, which, although sharing the week's program with a difficult debut, exhibited no indications of under-rehearsal. Perhaps the work's relative unfamiliarity—it was the Philharmonic's first performance in 22 years—made it seem like a debut, putting the musicians to the test. Whatever the cause, the 18-year-old composer's mastery of the traditional symphonic form, as well as his frustration with it, shone through in bright, clear hues.
Gilbert, on the other hand, chose to severely inflect the Andante's basic, Magic Flute-style melody, giving him little space to express himself in the variations that followed. At the very least, a bit of Haydn-like meticulousness would have been more effective.
The abrupt Menuetto, which is really a Beethoven scherzo, manages to be forceful without being heavy. The horns packed the trio's beautiful oboe solo, which, as in the Andante, proved difficult to control when their part wasn't highlighted.
The final Presto vivace, a confection of skittering scales and Schubert's trademark rat-a-tat beat, brought everything back into balance. Gilbert and the orchestra didn't skip a beat on their way to a sparkling conclusion to a concert that may have seemed a bit stale at first.
Share:
Twitter

|
Facebook

|
Linkedin