Khatia Buniatishvili Career, Biography & Life Style
Born in Georgia, Khatia Buniatishvili discovered piano at the early age of three. She gave her first concert with Tbilisi Chamber Orchestra when she was six and was subsequently invited to tour internationally with them. Throughout her career, she has performed at venues around the world, such as Carnegie Hall (New York), Walt Disney Concert Hall (Los Angeles), Royal Festival Hall (London), Musikverein und Konzerthaus (Vienna), Concertgebouw (Amsterdam), Berlin Philharmonie, Paris Philharmonie, Théâtre des Champs-Élysées (Paris), La Scala (Milan), Teatro La Fenice (Venice), Palau de la Música Catalana (Barcelona), Victoria Hall (Geneva), Tonhalle (Zurich), Rudolfinum (Prague), Grand Theater (Shanghai), Beijing NCPA (Beijing), NCPA (Mumbai), Suntory Hall (Tokyo), and Esplanade Theatre (Singapore). Khatia has participated in the Salzburg, Verbier, Gstaad Menuhin, La Roque d'Anthéron, and iTunes festivals, as well as LA's Hollywood Bowl, BBC Proms, Klavier-Festival Ruhr, and Progetto Martha Argerich.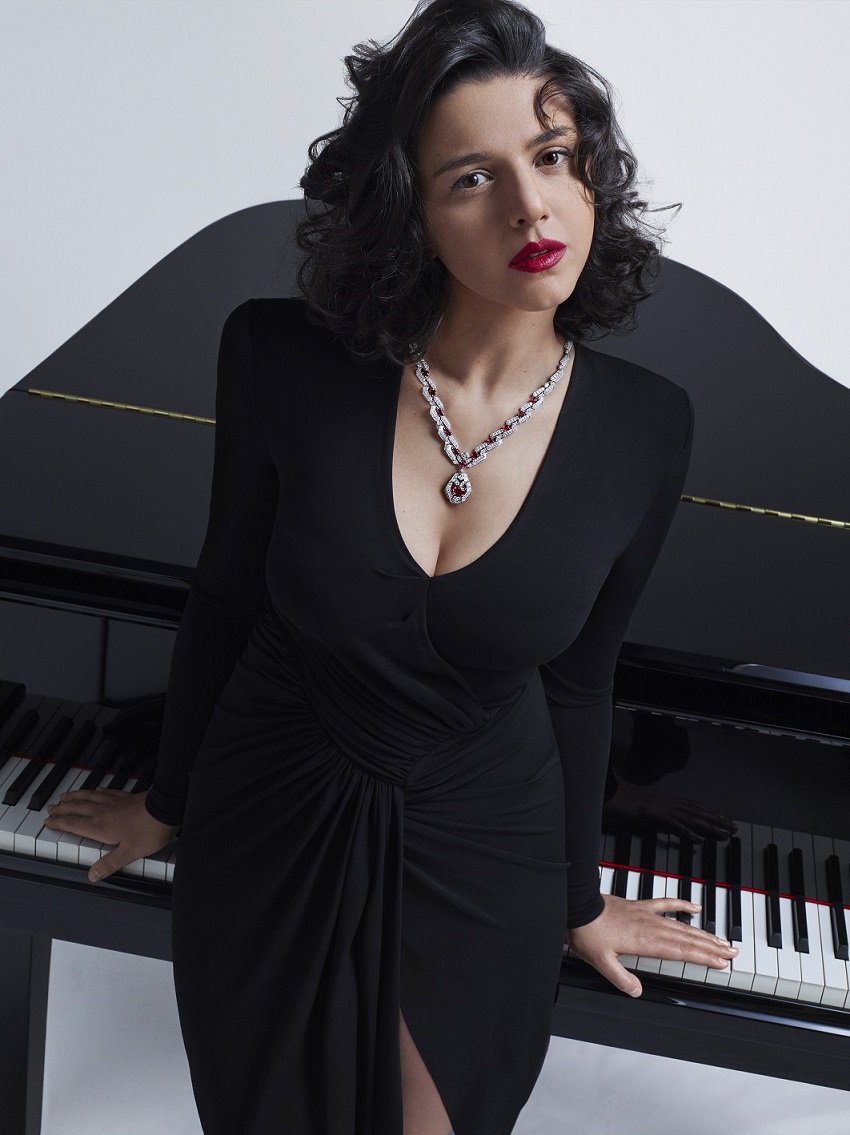 Among Khatia's musical partners are some of the world's leading conductors and orchestras. She has performed under the batons of Zubin Mehta, Placido Domingo, Kent Nagano, Neeme Järvi, Paavo Järvi, Mikhail Pletnev, Vladimir Ashkenazy, Semyon Bychkov, Myung-Whun Chung, and Philippe Jordan, and collaborated with the Israel Philharmonic, Los Angeles Philharmonic, San Francisco Symphony, Seattle Symphony, Philadelphia Orchestra, Toronto Symphony, São Paulo State Symphony, China Philharmonic, NHK Symphony, London Symphony, BBC Symphony, Orchestre de Paris, Orchestre National de France, Filarmonica della Scala, Vienna Symphony, Rotterdam Philharmonic, and Munich Philharmonic.
Because humanity is at the center of all art, Khatia's music serves as a portion of her activism. She has been involved numerous social rights projects, such as the DLDwomen13 Conference (2013) in Munich, "To Russia with Love" (2013) a concert in Berlin to speak out against the violation of human rights in Russia, "Charity Concert in Kiev" (2015) for wounded persons in the Anti-Terrorist Operation Zone, and the United Nation's 70th Anniversary Humanitarian Concert (2015) in Geneva which benefited Syrian refugees.
Her discography includes Franz Liszt (2011), Chopin (2012), Motherland (2014), and Kaleidoscope (2016) under the SONY Classical label, as well as Kissine, Tchaikovsky: Piano Trios with Gidon Kremer and Giedrė Dirvanauskaitė (2011) and Franck, Grieg, Dvorak: Violin Sonatas (2014) with violinist Renaud Capuçon. She also collaborated with rock group Coldplay's latest album A Head Full of Dreams.
COPYRIGHT_MPP: Published on https://multiplayerpiano.com/khatia-buniatishvili/ by - on 2021-08-10T12:52:59.624Z
She is two times ECHO Klassik Award winner in 2012 for Franz Liszt and 2016 for Kaleidoscope. Khatia studied in Tbilisi with Tengiz Amirejibi and in Vienna with Oleg Maisenberg.
Khatia Buniatishvili, like Pablo Casals before her, puts the human person at the center of her work. The Enlightenment's basic principles are not open for debate. If there was a fire and she had to choose between a kid and a painting, she would choose the latter without hesitation. She would, however, take the kid to the Museum of Fine Arts after rescuing it from the fire so that it might pursue a career as a painter. There's no need to preserve "the fire" since it already burns her eyes, rages in her fingers, and warms her heart, as Cocteau pointed out.
Khatia, who was born on the longest day of 1987 in Batumi, Georgia, near the Black Sea, understands the cost of freedom and independence, as well as the stamina required to stand tall in life. Her parents' leadership did not go unnoticed. Khatia's parents had to be creative to keep poverty at bay during the tumultuous time her nation was going through. Her mother, who taught her music, made beautiful clothes for both of her daughters out of scraps of fabric she found strewn about the house. The sisters witnessed an example of inventiveness in the face of hardship right in front of their eyes.
Khatia, on the other hand, has never had any difficulty with the piano. She was born with an extraordinary talent, performing her first concert at the age of six. For amusement, her mother would put a new musical sheet on the piano every day, which Khatia would eat with her long, octopus-like arms. Because she has never had to fight with her instrument, she has always seen pianos from all over the globe as friends from whom she must extract the best, appreciating their quirks and tasting the pleasures of their personalities, but never seeking to alter or make them her martyrdom. Gvantsa, her sister, is also a talented pianist. They form a great team because one has her feet on the ground while the other is supersonic.
Khatia's successful career has come effortlessly and without effort. The sun does not need the movement of mountains in order to exist; it rises and shines for everyone. And these are the adjectives that come to mind when one sees her explode onto the stage or into life: her hair flowing, her beautiful Parisian form, her lips beaming, her light, sylph-like strides, and her feline physique. The rose, on the other hand, will display its thorns if it feels threatened. She will not be forced to abandon her humanitarian work. She will not be prohibited from assisting the nation in which she grew up. She will not be compelled to perform in a country that despises her principles. She will not be compelled to play with people who do not inspire equal amounts of personal respect and creative appreciation. Nothing, in fact, can be forced on this young woman of the air, whose wingbeats fertilize her work and who scatters a melodious cloud of golden powder to the four winds.
One of her idols is Franz Liszt. He was the one she wanted to go into the realm of discography with first. Liszt is continually stretching the limits of what is possible. He invents and gives generously, fusing popular and scholarly styles, the profane and holy, nature and poetry-he transcends all he touches.
Khatia Buniatishvili avoids self-intellectualization and representation. She might easily adopt her friend Martha Agerich's credo, "Live and let live"-she, too, is a Gemini. She prefers complexity to complication; paradoxes to strict oppositions, which are often found to be sterile. She prefers to create and is less interested in reacting. She breathes the oxygen of imagination and finds equilibrium in pondering, stimulated by the conversation between the arts.
When it comes down to it, she is still that kid intrigued by life and creatures who, at the age of nine, was already reading Dostoevsky and Chekhov and for whom it was obvious that beauty would rescue the world. Without differences, whatever is right will sound right and leave its imprint.
In her CD "Motherland," she approaches all styles from Baroque to modern in this manner, demonstrating that true music knows no boundaries and that all styles blend into one true all-linking, all-revealing style that can be summed up in Mozart's words: "Love, love, love, therein lies the soul of genius."
Khatia Buniatishvili, a brilliant pianist at the pinnacle of her talents, was born in a burst of light on the summer solstice. On a personal level, she is drawn to equinoxes because she is captivated by fairness and seeks out both day and night in equal measure. If one looks up at the sky, one may see her playing hide-and-seek with Venus or Mercury. As she rides a comet across space, the universe is her garden, and it is in its movement that she feels alive.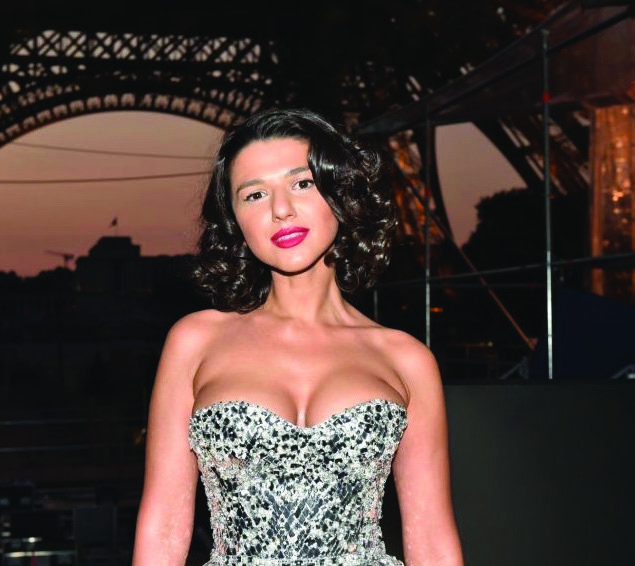 Khatia Buniatishvili - Grieg - Piano Concerto in A minor - Sokhiev
When concert pianist Khatia Buniatishvili plays Claude Debussy's classic Clair de Lune, she demonstrates her sensitivity by letting the notes fade gradually, like a sunset giving way to darkness.
The French-Georgian prodigy demonstrates her ability to play with speed and strength in Sergei Rachmaninoff's difficult and beautiful "Piano Concerto No.2-3rd Movement."
The 33-year-old singer is also prepared to donate her time and talent to good causes. Then she performed "To Russia with Love" in Berlin to raise awareness of human rights violations in Russia, and she repeated the performance in Geneva at the UN's 70th Anniversary Humanitarian Concert, which helped Syrian refugees.
Buniatishvili's outstanding talent and sensitivity to others drew Cartier CEO Cyrille Vigneron's attention, and he finally asked her to become one of the luxury brand's cultural ambassadors, which she gladly accepted.
In a recent video interview from Paris, Buniatishvili said, "We already had a wonderful relationship because he is interested in art and culture." "He enjoys classical music." It's clear that Vigneron-a great guitarist in his own right-is a fan of Buniatishvili, and the two have formed a tight bond. He says she blends her extraordinary skills as a pianist with empathy toward others and an elegant, easygoing demeanour in the same video interview from his office in Geneva.
He describes Khatia as "one of the most fascinating people of our time." Buniatishvili has played as a headliner in some of the world's most prestigious venues, including London, Vienna, Amsterdam, Paris, Milan, and Shanghai, since making her professional debut in 2008 at Carnegie Hall. Her repertoire is varied, but she is arguably most recognized for her interpretations of Franz Liszt and Rachmaninoff pieces. She performs solo, chamber ensembles, and full orchestral works.
Labyrinth, her most recent CD, was recorded with the Philharmonie de Paris. The CD borrows from a variety of composers, ranging from Scarlatti to Morricone, from Bach to Glass.
In the middle of the global coronavirus outbreak, Cartier and Buniatishvili announced their alliance in October. At this time, travel and chances for personal appearances are not possible. Buniatishvili was seen in a Cartier boutique trying on diamond necklaces while the song "Diamonds are a Girl's Best Friend" played in the background.
Buniatishvili's tour schedule was also put on hold because of the epidemic. She has performed in front of an audience in a few streamed performances, but she misses it.
Marin Alsop with Khatia Buniatishvili - Beethoven: Piano Concerto No. 1 in C Major, Op. 15
Share:
Twitter

|
Facebook

|
Linkedin